MB News Monument Builders of North America
April 2023
Conversations About Cremation Issue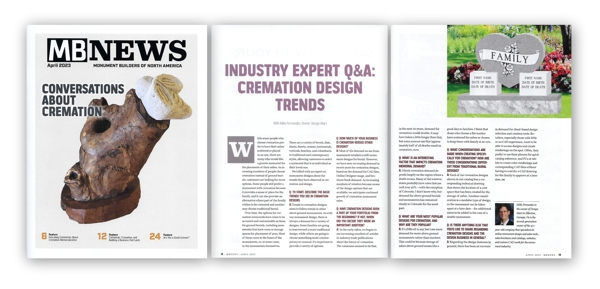 Industry Expert Q&A:
Cremation Design & Trends
With Mike Fernandez, Owner: Design Mart
While some people who choose cremation prefer to have their ashes scattered or placed in an urn, there are many who would like a granite memorial for the placement of their ashes. As increasing numbers of people choose cremation instead of ground burials, customers are looking for more options. Some people still prefer a monument with cremation because it provides a sense of place for the family, and it can also provide an alternative where part of the family wishes to be cremated and another may choose traditional burial.
Over time, the options for cremation memorials have come to be as varied and customizable as those for ground burials, including monuments that have cores or storage spaces for placement of urns. Most of these cores in the bases of the monuments, or, in some cases, in the monuments themselves. There are a variety of bevels, flats, slants, hearts, crosses, horizontals, verticals, benches, and columbaria in traditional and contemporary styles, allowing customers to select a memorial that is as individual as their loved one.
We talked with an expert on monument designs about the trends they have observed in cremation and design.
Q: TO START, DESCRIBE THE BASIC TRENDS YOD SEE IN CREMATION DESIGNS?
A: Trends in cremation designs seem to follow trends in other above ground monuments. As with any monument design, there is always a demand for a variety of designs. Some families are going to lean toward a more traditional design, while others are going to choose something more contemporary or unusual. It's important to provide a variety of options.
Q: HOW MUCH OF YOUR BUSINESS IS CREMATION VERSUS OTHER DESIGNS?
A: Most of the demand we see from monument retailers is still monument designs for burial. However, we have seen increasing demand in recent years for cremation designs, based on the demand for CAD files, Online Designer usage, and brochure/book demand. As increasing numbers of retailers become aware of the design options that are available, we anticipate continued growth of cremation monument sales.
Q: HAVE CREMATION DESIGNS BEEN A PART OF YOUR PORTFOLIO FROM THE BEGINNING? IF NOT, WHEN DID YOU DECIDE THEY WERE AN IMPORTANT ADDITION?
A: In the early 1980s, we began to see increasing numbers of articles in industry trade publications about the future of cremation. The consensus seemed to be that, in the next 20 years, demand for cremation would double. It may have taken a little longer than that, but some sources say that approximately half of all deaths result in
cremation, now.
Q: WHAT IS AM IMTERESTIG FACTOR THAT IMPACTS CREMATIOM MEMORIAL DEMAND?
A: I think cremation demand depends largely on the region where a death occurs. Many of the western states probably have rates that are well over 50% - with the exception of Colorado; I don't know why, but demand for above ground burials and monuments has remained steady in Colorado for the most part.
Q: WHAT ARE YOUR MOST POPULAR DESIGNS FOR CREMATIOM, AND WHY ARE THEY POPULAR?
A: It's difficult to say, but I see more demand for more above ground monuments rather than markers. This could be because storage of ashes above ground seems like a good idea to families. I think that those who choose a flat marker have scattered the ashes or chosen to keep them with family in an urn.
Q: WHAT CONSIDERATIONS ARE MADE WHEN CREATING SPECIFICALLY FOR CREMATIOM? HOW ARE THOSE CONSIDERATIONS DIFFERENT FROM TRADITIONAL BURIAL DESIGNS?
A: Each of our cremation designs shown in our catalog has a corresponding technical drawing that shows the location of a core space that has been created for the storage of ashes. Another consideration is a modular type of design, so the monument can be taken apart at a later date for additional ashes to be added in the case of a double monument.
Q: IS THERE ANYTHING ELSE THAT YOU'D LIKE TO SHARE REGARDING CREMATION DESIGNS AMO THE DESIGN BUSINESS IN GENERAL?
A: Regarding the design business in general, there has been an increase in demand for cloud-based design selection and creation tools. Retailers, especially those with little or no CAD experience, want to be able to access designs and create renderings on the spot. Often, they prefer to use their phones for quick catalog reference,and PCs or tablets to create color renderings and corresponding CAD files without having to wait for a CAD drawing for the family to approve at a later date.
Mike Fernandez is the owner of Design Mart in Elberton, Georgia. He is the second-generation owner of the 50+ year-old company that specializes in online monument design and sales tools, sales brochures and catalogs, websites, and custom CAD work for the monument industry.