Child Art Portfolio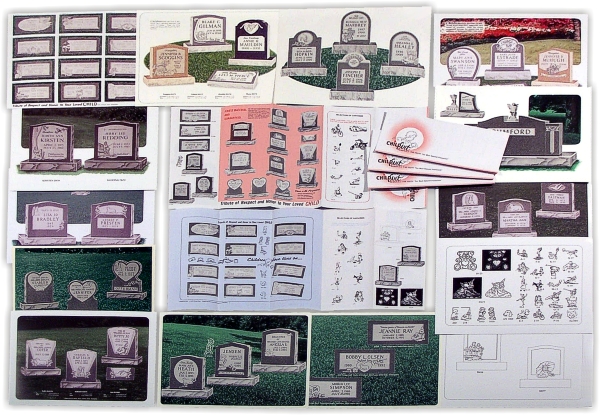 Series: (D1 - D12, D119, D123, D656 - D657, D658 - D659, D902 - D903, D926 - D928, D966 - D968, D1015 - D1016, D1078 - D1080, A1 - P16, An1003, D1168 - D1170, D1232 - D1234, ) Selection includes individuals and markers (slants, bevels, flats), and etchings.
Online Catalog: Complete design series available online.
Book/Catalog: Not available.
Portfolio: Contains a brochure/pamphlet and glossy 11 x 8 1/2" design prints displaying 33 monuments in blue/gray granite and 28 alternates/components. Features carving and design identification numbers for easy personalization and ordering from granite manufacturers. Ideal for closing sales and creating specifications and finalizing orders with monument manufacturers.
Brochure/Pamphlet: 18 1/2" x 8 7/8"; features 34 photo-realistic monument designs shown in blue/gray granite. Fits #10 envelope. Ideal for generating awareness through pre-need or at need direct mail or in office use. May be personalized with company name, logo, etc.
Individual Glossy Prints: Featured in portfolio (above)
Software: Available in AI, CDR, DWG, DXF, EPS and PLT formats for Gerber Graphix Advantage/Omega, Corel Draw, Flexisign, Signlab, Casmate/Inspire, MonuCad, AutoCad, Illustrator and more. Individual designs may be ordered via e-mail. Series may be ordered on CD ROM. Click here to learn more about software.