Jewish Design Print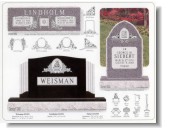 Print: This print offers a variety of alternatives for Jewish memorialization. The glossy 8 1/2 x 11" print features three monuments and 21 components including the Star of David, rose border/frame, open books, wheat border/frame, acanthus border/frame, ivy border/frame, alternate ivy border/frame, two alternate rose borders/frames, lion border/frame, laurel border, Ten Commandments, altar, Lion of Judah, Ewer, Cohanim Hands, Menorah, Dove Yartzeit/flame and alternate. This design print offers many possibilities for interchanged/customized designs and may be used with coordinating software to customize monuments.
Online Catalog: Design print available online.
Software: Available in AI, CDR, DWG, DXF, EPS and PLT formats for Gerber Graphix Advantage/Omega, Corel Draw, Flexisign, Signlab, Casmate/Inspire, MonuCad, AutoCad, Illustrator and more. Individual designs may be ordered via e-mail. Series may be ordered on CD ROM. Click here to learn more about software. All designs featured in the portfolio may be purchased at one time for $199 + $12.50 shipping and handling. Individual designs may be purchased for $35 + $10.79 shipping and handling. A second design, purchased at the same time is $25 + $10.79 shipping and handling. Individual designs may be emailed with no shipping and handling charges.