Bench Portfolio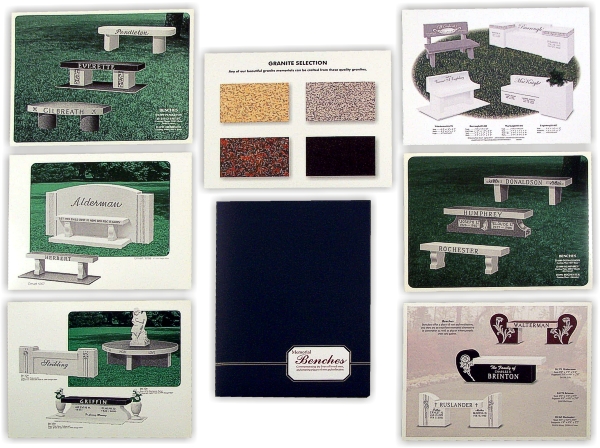 Series: This bench collection is an excellent addition to any design library, and it provides alternatives for traditional cemetery as well as non-traditional monument locations such as courtyards. These benches are featured in the following Design Mart book/brochure/software collections: D1369, D1370 and D1371; D1328, D1329 and D1330; D1267 and D1268; D1209, D1210 and D1211; D1089, D1090 and D1091; D1479, D1480, D1481 and D1482; and a Color Selector Sheet.
Online Catalog: Complete design series available online.
Portfolio: Two-pocket folder with six 11 x 8 1/2" glossy prints displaying 18 benches.
Software: Available in AI, CDR, DWG, DXF, EPS and PLT formats for Gerber Graphix Advantage/Omega, Corel Draw, Flexisign, Signlab, Casmate/Inspire, MonuCad, AutoCad, Illustrator and more. Individual designs may be ordered via e-mail. Series may be ordered on CD ROM. Click here to learn more about software. All designs featured in the portfolio may be purchased at one time for $199 + $12.50 shipping and handling. Individual designs may be purchased for $35 + $10.79 shipping and handling. A second design, purchased at the same time is $25 + $10.79 shipping and handling. Individual designs may be emailed with no shipping and handling charges.