Pre-Cut Stencils
Our software, when used with popular hardware systems, allows many of our customers to quickly and easily cut their own sandblast stencil, but we also provide precut sandblast stencil.  You'll see those prices if you scroll down.
We have thousands of designs available, with matching brochures and catalogs, and we offer thousands of additional pieces of clip art and classic components.
For commemorative brick stencils and onsite stencil cutting, we recommend our monument font package and one of our portable plotters.
Design Mart's studio can match photos and rubbings of any stone for restoration or creating additional monuments for a family's cemetery space. In most cases our studio can work right on top of your photo for an exact match. For best results you'll want to shoot the monument straight on. Photos taken at an angle are distorted, and duplications can't be precise. Here are some examples of recent work from our studio.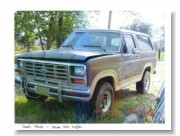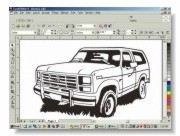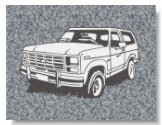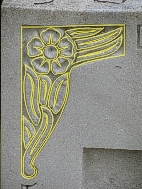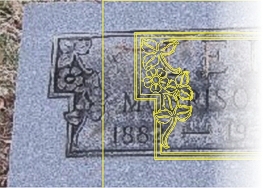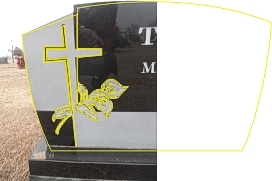 Pre-Cut Stencil Prices
How to calculate your precut stencil price:
Add rubber, lettering, artwork together and shipping & handling together.
1 + 2 + 3 + 4 = Precut stencil cost.
1. Rubber
$2.00/inch regular designs, or
$3.50/inch for scenes, or
$25.00 minumum (including death dates, bricks, pavers, components, and other small stencil)
2. Lettering
$.25/character
$To Be Determined - custom characters from rubbings or photos - see custom art below
$10.00 minimum for each text revision*
3. Layout & Artwork
$ n/c - Standard DMart, standard size, no changes
$25.00 - minimum to modify a DMart with DMart components. Must provide DMart identification numbers. If no DMart numbers are provided custom artwork charges will apply
$55.00 and up - Custom Artwork (matching rubbings or photos of emblems, scenes, corner carvings, etc.)
$5.00 - $10.00 each to match characters from rubbing or photo
$15.00 each character when no character is present to match
$TBD revisions to drawings depend on complexity of the revision*
4. Shipping & Handling
Depends on zone, weight and additional insurance if required. You may calculate an estimated shipping cost at www.usps.com . Stencil weight is approximately 1 pound per foot (30" wide). Insurance fees will add to the cost if applicable. Stencil is shipped via Priority Mail, which is usually a 2-3 day delivery. Here are some estimated examples:
$60.00 - 35 pounds (entire roll of stencil with insurance)
$40.50 - 12 pounds (with insurance)
$15.50 - 2 pounds (no additional insurance)
These prices can change without notice due to USPS.
***IMPORTANT***
It is Design Mart's policy to charge for artwork on stencil proofs if the stencil proof does not result in an order after 30 days. You will receive a JPG of the artwork along with a copy of your receipt after 30 days.  If you decide to order stencil at a later date you will only be charged for any revisions that are required, the precut stencil, and shipping & handling.
*Alterations or corrections are extra. See two references to lettering and custom artwork above.
We typically use U-Blast 719 YPT, double liner stencil with a yellow middle layer for easier viewing when sandblasting.