Memories Etched In Stone (Etchings On Black Granite)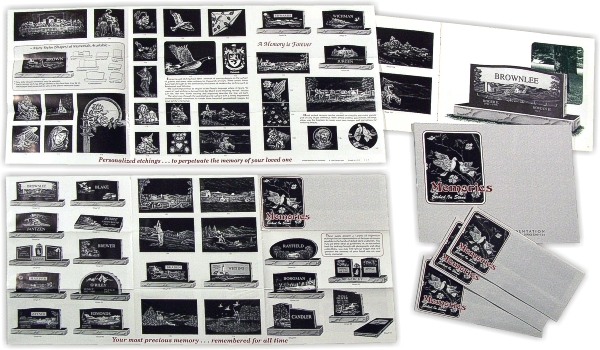 Series: (D80 - D134) Selection includes companion monuments, family monuments, contemporary and traditional shapes, wing/vase style monuments, individuals, markers (slants, bevels, flats), a ledgers, and etching vignettes/components. Themes include: covered bridges, farm scenes, mill scene, father and children fishing, portrait, beach scene, the Pieta, country church scenes, snow scene, mountain cabin, lighthouse, Christ, Christ ascending into clouds, Christ with children, Christ praying in garden, Mary, cowboy, indian, golfer, hunter, fisher, teddy bear, dogs, family crest, soldier, horses, deer, eagle, doves, geese, praying hands, roses, cars, trucks, trains, couple in swing, and Last Supper.
Online Catalog: Complete design series available online.
Book/Catalog: 11 x 8 1/2"; glossy soft cover; 32 glossy pages, 54 monument designs on black granite, including alternate etching vignettes/components. Features design identification numbers for easy personalization and ordering from granite manufacturers and etchers/artists. Ideal for closing sales and creating specifications and finalizing orders with monument manufacturers and etchers/artists.
Brochure/Pamphlet: 26 1/8" x 11 7/8"; glossy finish; features 54 photo-realistic monument designs; all designs are featured on black granite. Fits #10 envelope. Ideal for generating awareness through pre-need or at need direct mail or in office use. May be personalized with company name, logo, etc.
Individual Glossy Prints: Not available (book and brochure only)
Software: Individual designs available upon request only. 8 bit grayscale and 2 bit black and white artwork available for laser etchers. Please contact Design Mart for prices and availability. No vector art available. These designs are hand etched (and may be laser etched). They are not sandblasted and may not be processed as vector/wireframe files. Some designs have been converted for vector use. Please contact Design Mart for availability and price.