Legacies In Stone (A Guide To Monument Symbolism)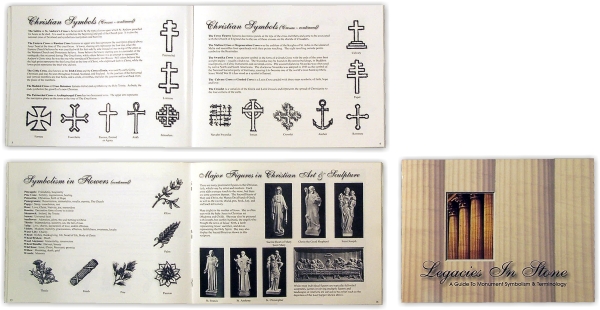 When the Elberton Granite Association hosts classes for the monument industry they ask Design Mart to assist by presenting a class on the importance of memorial symbolism. The class covers many of the symbols shown in Legacies In Stone, and when the class has ended many of the students come back to purchase the book.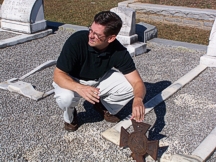 Shown here is Design Mart's Mike Fernandez during one of the classes. The Maltese Cross used in this iron CSA emblem from the 1800s is also the symbol of the Knights of Malta and is symbollic of protection. Students were surprised to learn that this symbol is still in use today, and is often seen in Fire Department emblems.
Book/Catalog: 11 x 8 1/2", glossy soft cover, and 33 glossy pages. More than 200 illustrations and photos, and more than 400 terms and definitions are explained in this comprehensive guide. More than 50 types of crosses are defined, explained or illustrated. Christ's disciples and their graphic/sculptural components are discussed. Monument terminology is covered including checks, beads, scotias, bands, chamfers, fillets, rounds and more. From Acanthus to Willow, there are more than 50 illustrations of flowers and plants that symbolize everything from apathy to zeal. Architectural terms are defined including illustrations of the five orders of classic Roman columns.
Brochure/Pamphlet: Not available (book only)
Software: Soon available in PDF format for Adobe Acrobat.
To learn more about monument symbolism order your copy of Legacies In Stone today!