Seasons Cherished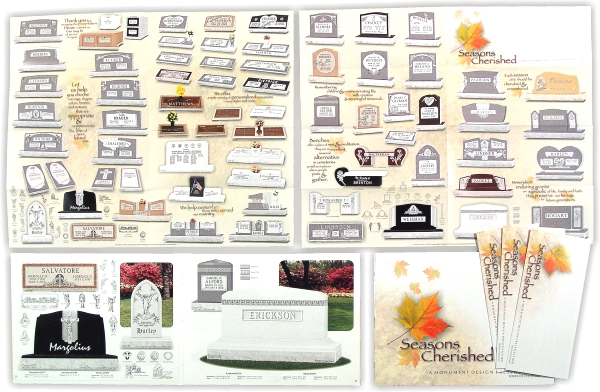 Brochures/Pamphlets:Brochures/Pamphlets: 18" x 15 1/4"; glossy finish; features 71 photo-realistic monument designs (predominantly blue/gray with some pink, red and black). Fits #10 envelope. Ideal for generating awareness through pre-need or at need direct mail or in office use. May be personalized with company name, logo, etc.
Online Catalog: Complete design series available online.
Book/Catalog: 11 x 8 1/2"; glossy soft cover; 48 glossy pages, 92 monuments on blue/gray, pink, red and black granite. Contains monument and carving reference numbers on each page for easy personalization and ordering from granite manufacturers, as well as a graphic carving directory/index. Features alternate sizes for memorials (usually three size options). Ideal for closing sales and creating specifications and finalizing orders with monument manufacturers. Books feature alternate sizes, carving identification and a carving directory for easy personalization.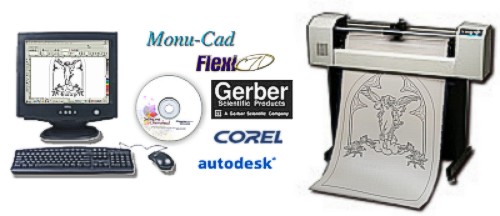 Software: Available in AI, CDR, DXF, EPS and PLT formats for Gerber Graphix Advantage/Omega, Corel Draw, Flexisign, Signlab, Casmate/Inspire, MonuCad, AutoCad, Illustrator and more. Individual designs may be ordered via e-mail. Series may be ordered on CD ROM. Click here to learn more about software. Also available for Microsoft PowerPoint and Adobe Acrobat.
Series: (D1335 - D1405) Selection includes companion monuments, family monuments, contemporary and traditional shapes, wing/vase style monuments, individuals, markers (slants, bevels, lawn level/flats), markers including bronze on granite bases, photo/laser etchings, veterans and children's markers, as well as Protestant, Catholic and Jewish themes.
Individual Glossy Prints: Available.