As seen in "What's New In The Monument Industry"
MBNews June 2020 (see content below)


Legacy/Basic Online Monument Designer & Catalog
We've had great success with our current Online Monument Designer & Catalog in its many versions since 2015.  However, there have been so many requests to bring back our Legacy/Basic Designer & Catalog, which is ideal for connection to your website, and provides a way for your customers to shop and design from home.  Customers love being part of that process.
Here's why we brought it back:
- Nearly double the number of logins in the past eight weeks. The overall number of users browsing and creating monuments with our Online Monument Designers & Catalogs shows a shift to cloud-based monument sales and design resources.
- 12.3% increase in smartphone usage for browsing and designing monuments, which indicates a growing number of users have not been in front of their desktop PCs in the past eight weeks. Owners are working from home on phones, and customers are searching monument catalogs by phone.
- 28% increase in user engagement times indicating monument retailers and consumers are spending more time browsing and designing monuments online.
- 100% server up-time even with increasingly heavy loads in the past year.


Why choose the Legacy/Basic version of the Online Designer & Catalog for your customers?
Would you like something simple for customers to use from home via your own website?  Our Legacy/Basic version is for you, your website and your customers. If you need more features in-house and the ability to export CAD files for stencil, then the new version 2.3 is for you.
The videos below will help you learn more about how the Legacy/Basic version of the Designer & Catalog can start helping you today for ony $34 per month.  (Bills annually at $408.)
Basic Use Of The Catalog



This video will show you how easy it is to browse and search for types and sizes of monuments to fit any budget.  Customers and family members may view from home, and you may also choose to display the designs and books on a large screen in your display area.  It's also easy to use on your phone when you're out of the office.
Building A Monument From Scratch




It's easy to create a monument from scratch by using blank monument shapes and standard components.  While your customers won't always have the expertise to create an attractive, well-balanced design it is always helpful as a starting point for discussions and other options you can provide.  It has the added benefit of making the customer feel like it's their idea that kicked off the entire creative process.
Using Standard Designs Is A Snap




Three of our most popular books are included in the Legacy/Basic Designer:  Precious Memories, A Closer Walk, and Ties That Bind.  You or your customers can save time by selecting a monument from one of these books, adding names and dates, viewing different colors of granite, and then you're ready to close the sale.
At the end of the design process the concept will be emailed to you and your customer.  You will receive the color image for customer approval as well as a design summary so you'll know exactly which designs, components and fonts you'll need to create the CAD/cut file.  (Our new Monument Designer exports CAD/cut files automatically.  Click here to learn more about that version.)
Or, do you need to work from home (or the office) with hundreds of prebuilt designs and thousands of components and blank shapes to build your own from scratch?
You can design, sell, and export CAD/cut files from our latest 2.3 version of the Online Designer & Catalog. See how easy it can be in this brief video.  The cost of this new Designer & Catalog is $79 per month.  (Charged to your card monthly.)
How much does the Legacy/Basic Catalog and Designer cost?
It is billed annually at $408 per year.  That's only $34 per month!
Is it really that easy to use?
Yes, there are eight easy steps, which you'll see below.  Each step is explained at the top of each page.  If you can click and drag, you can do this!
Step 1:
Click the Login Button on your website.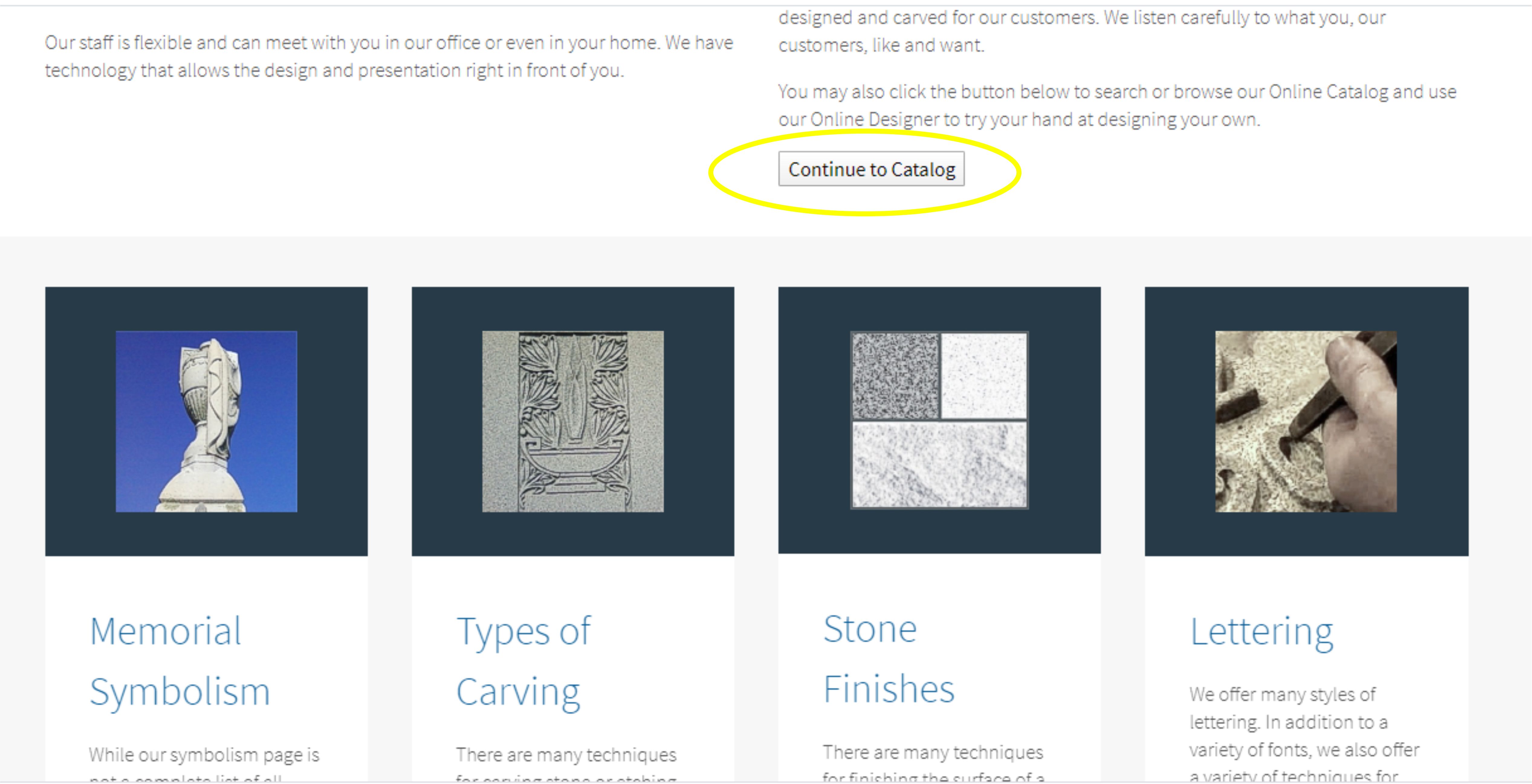 Step 2:
Choose a blank shape or a standard design from three of our books.
Families may select a classic monument or choose a blank from more than 140 shapes including:
upright traditional, upright contemporary, hearts, wings, oval/round tops, apex tops, flat tops, shell rock, flat/flush, bevels, slants, benches, and mausoleums. For those who wish to build from scratch or customize a design from the Classic Collections there are more than 200 carving component panels, flowers, religious figures, doves, crosses, etc.
If users don't want to start from scratch they may also choose from the Classic Collections including Precious Memories, A Closer Walk, and Ties That Bind. More than 200 carving components are available for adding to any designs from the Classic Collections.
Step 3:
Add features if you'd like.
Features include additional flowers, lettering panels, polished margins on bases, and vases for flower arrangements.  In this example we have added a dove above the family name panel.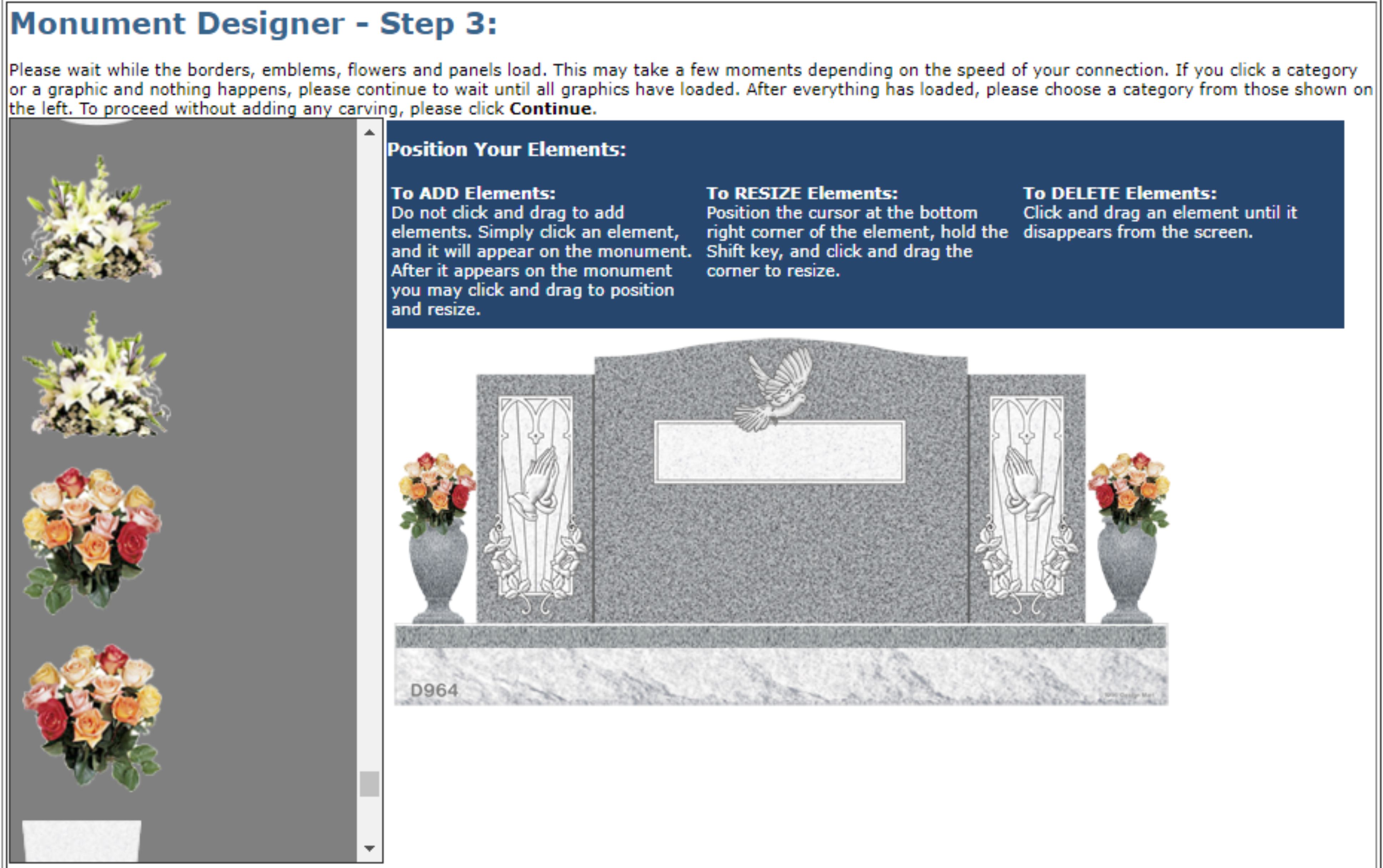 Step 4:
Type your lettering and drag it onto the monument.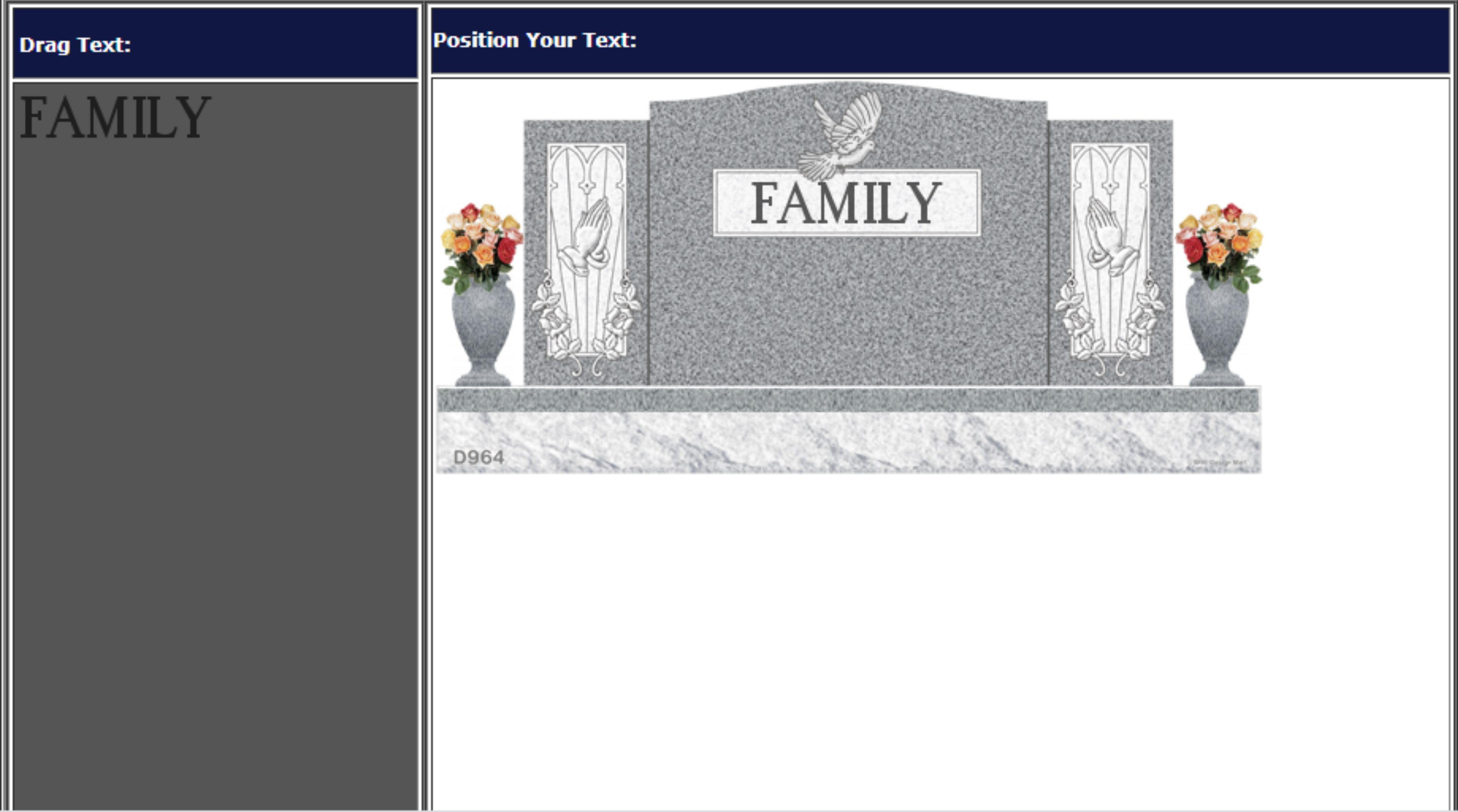 Step 5:
Add your monument to an attractive background image.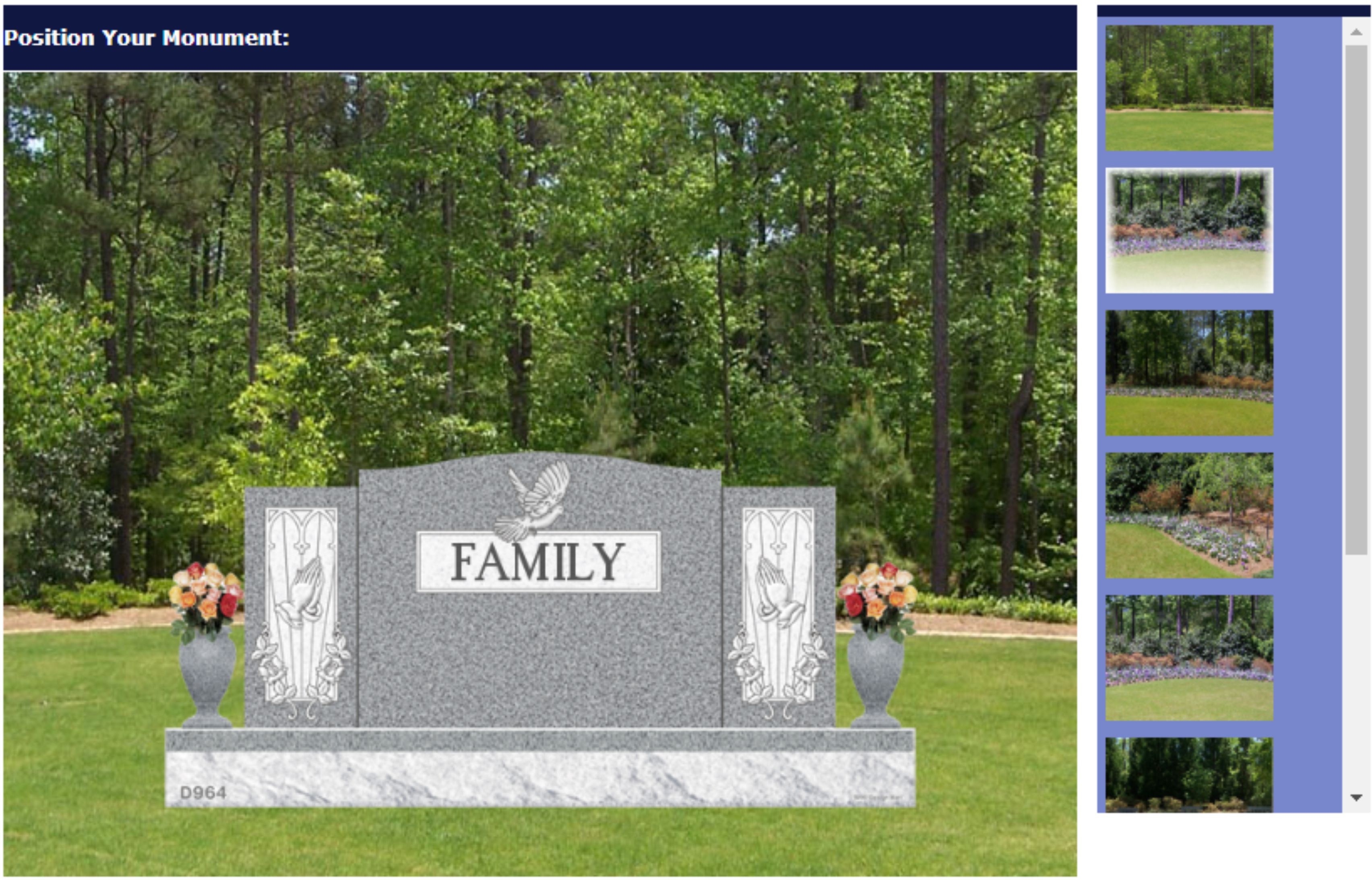 Step 6:
Change granite colors if you'd like.
This sales tool is compatible with all browsers and works on desktops, laptops, tablets (as shown below), iPads, and phones. Granite colors may be selected at the beginning of the design process, and may be changed again at the end.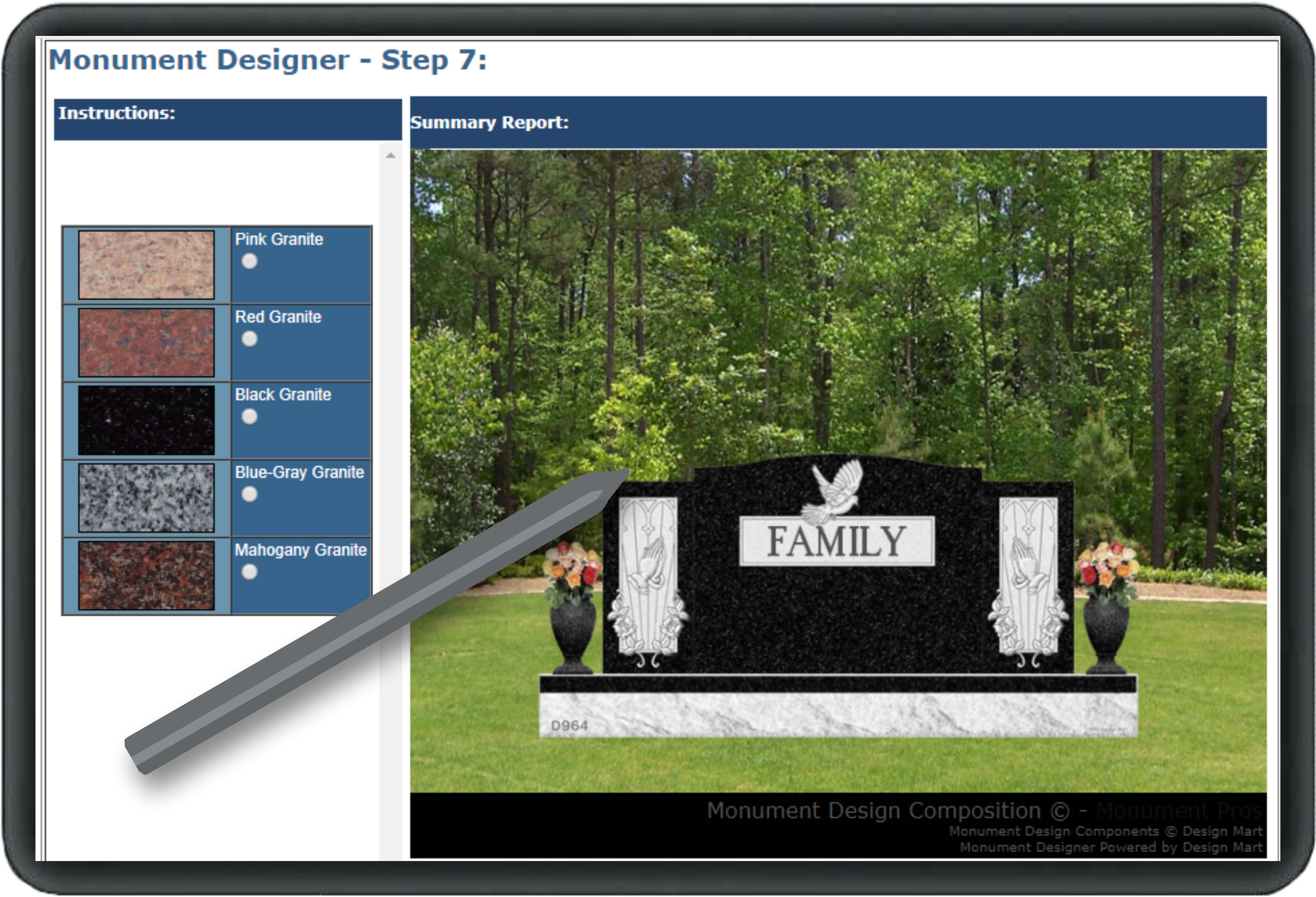 Step 7:
The monument design, summary and notes are emailed to you and your customer.

Step 8:
You're done.  Log out.  Log back in...whatever you need to do.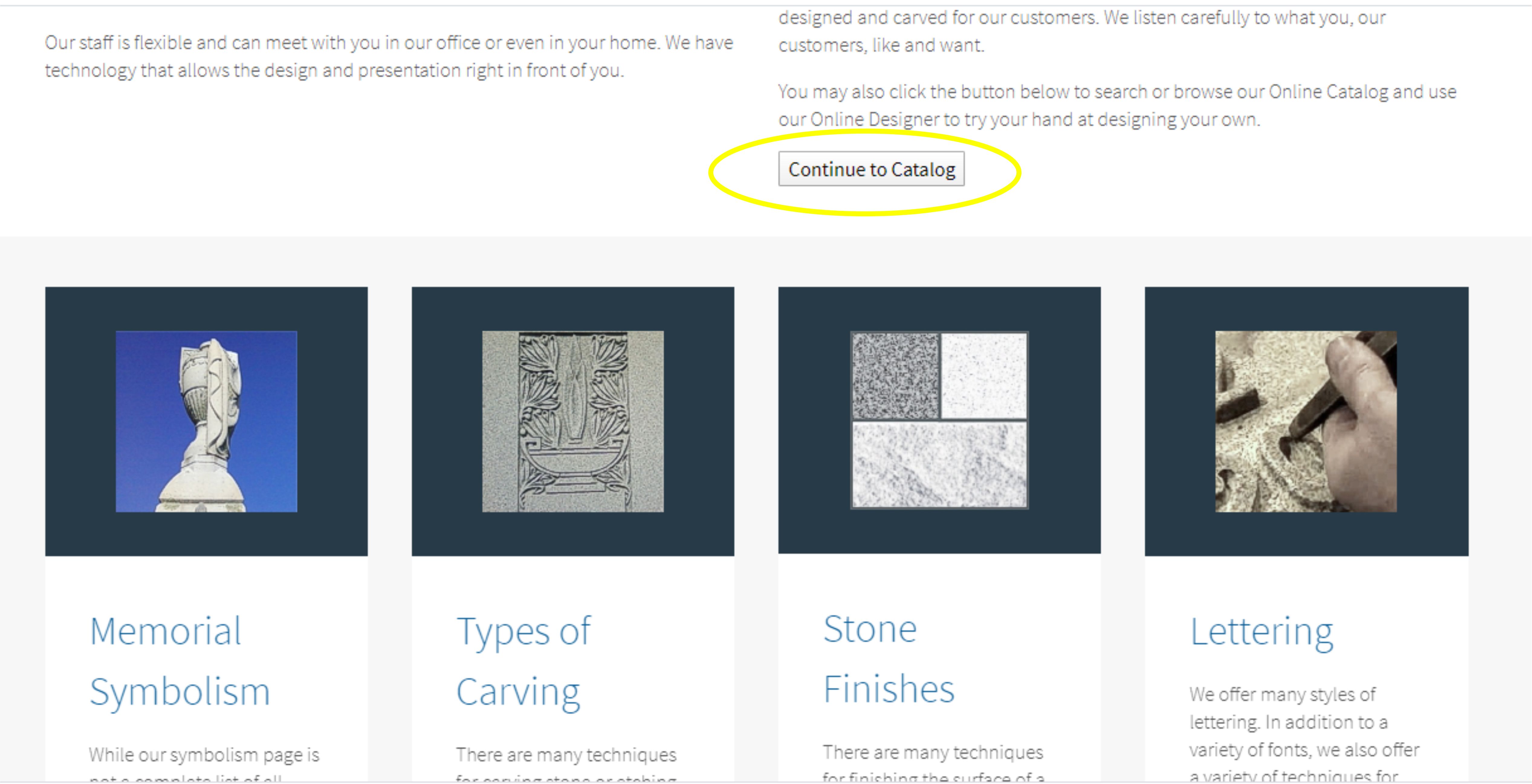 Included at no additional charge:  Online Catalogs
All Design Mart catalogs may be searched or browsed, where families can view hundreds of Classic Collection monument designs. Monuments may be cross-searched by Monument Type, Style, and Size.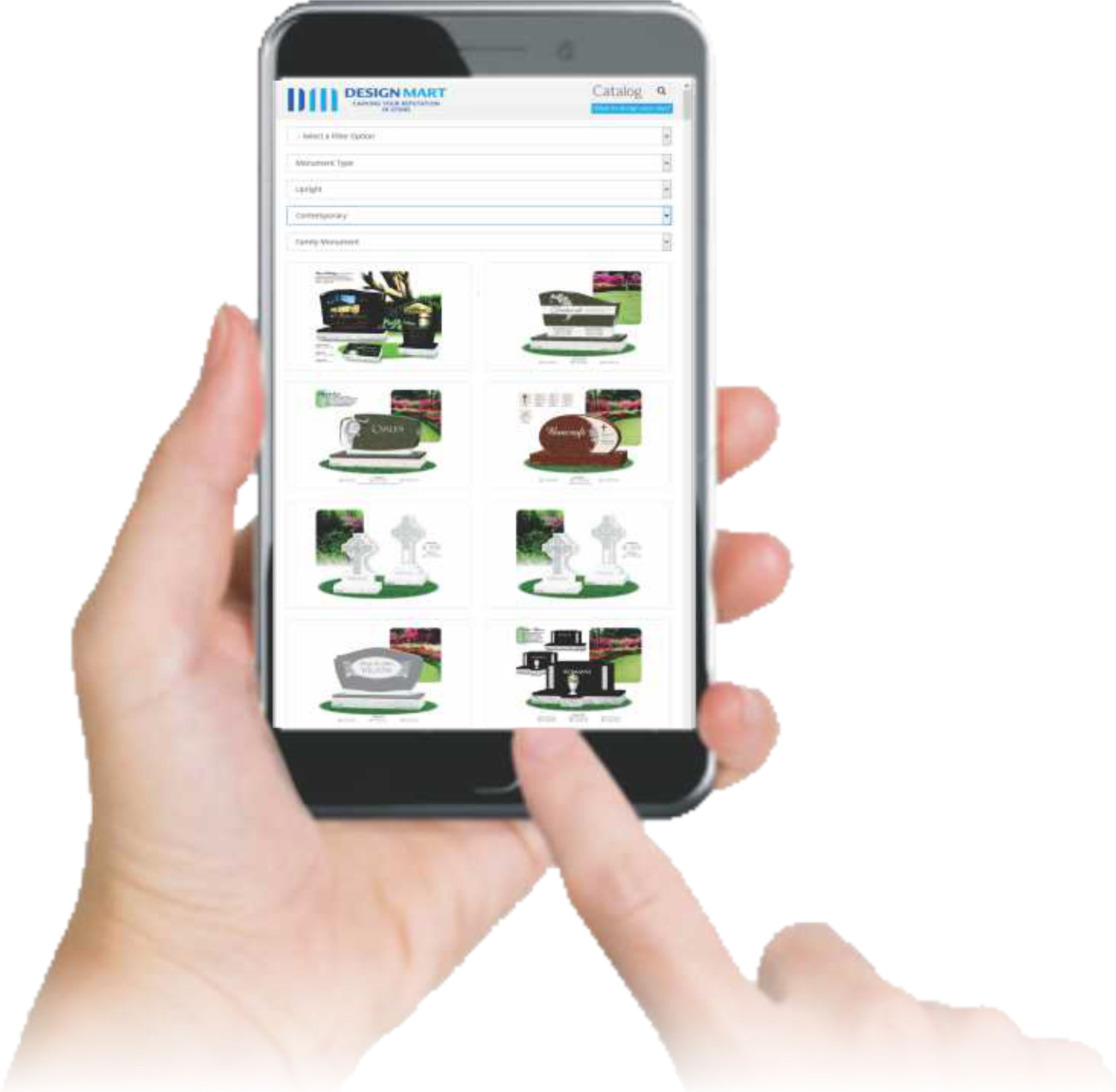 Monument Types include:  uprights, wings, bevels, flats, slants, ledgers, mausoleums, benches, pedestals, and signs.
Monument Styles include:  traditionals, vases, hearts, contemporaries, diamonds, gothics, etchings, scenes, and boulders.
Monument Sizes include:  companions, families, individuals, benches, children, veterans, and pets.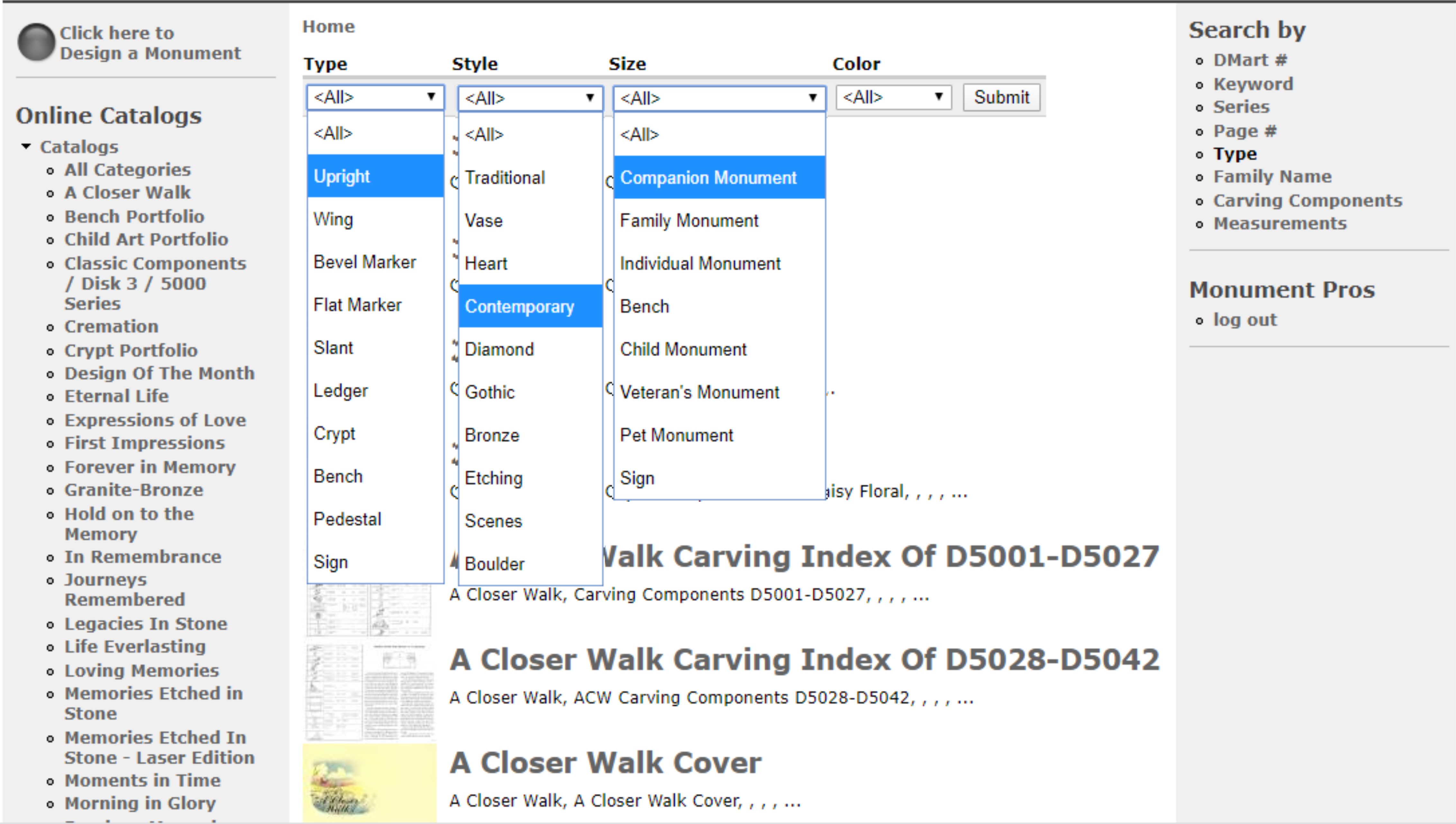 Catalog search results are displayed in a list or in rows and columns.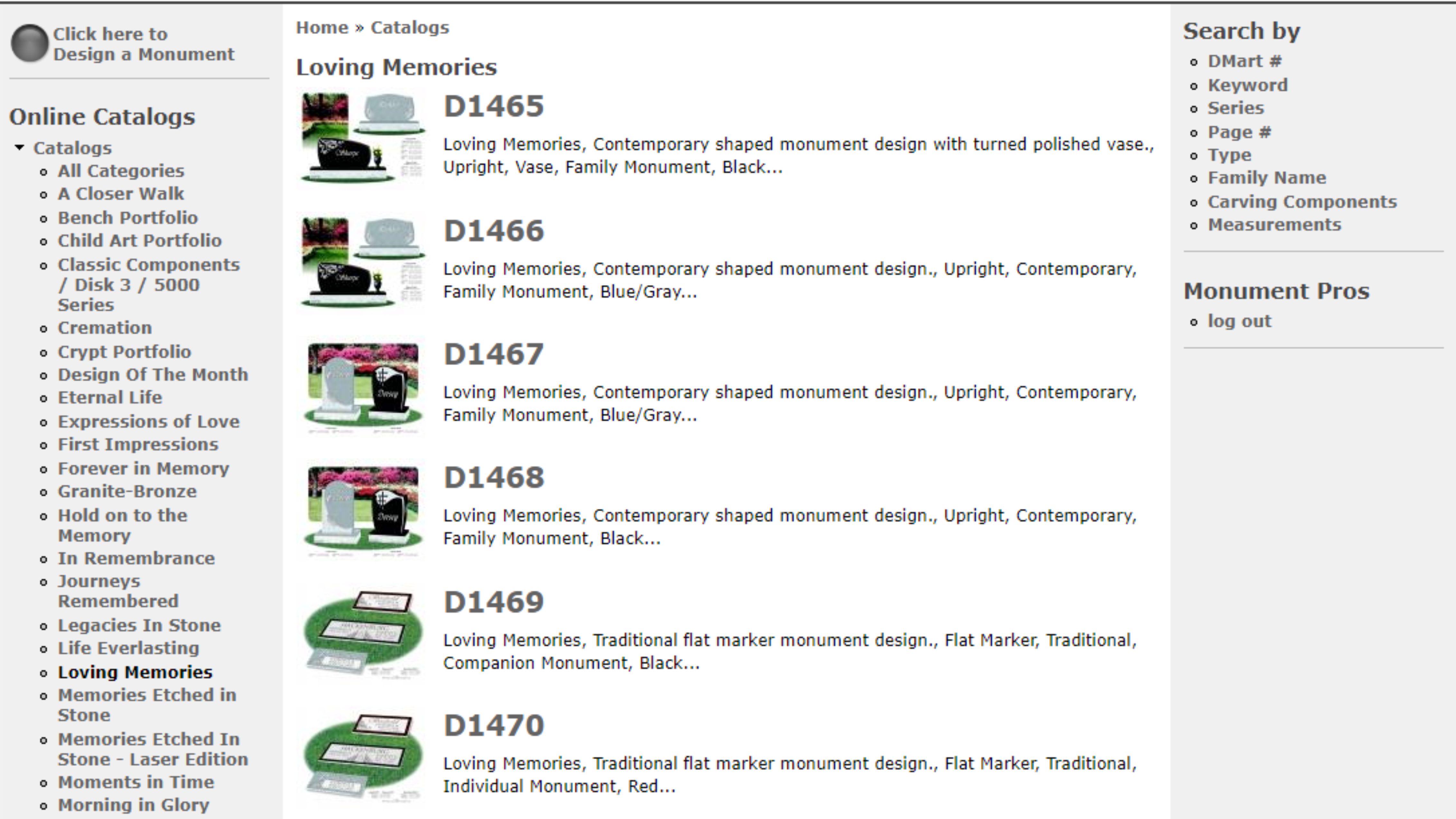 The Legacy Monument Designer and Catalog is all online or cloud based. There is no software to install, and operation is simply click-and-drag with instructions at each step. Each company has its own unique logo on the landing page so it looks like an extension of the memorialist's own website as shown below.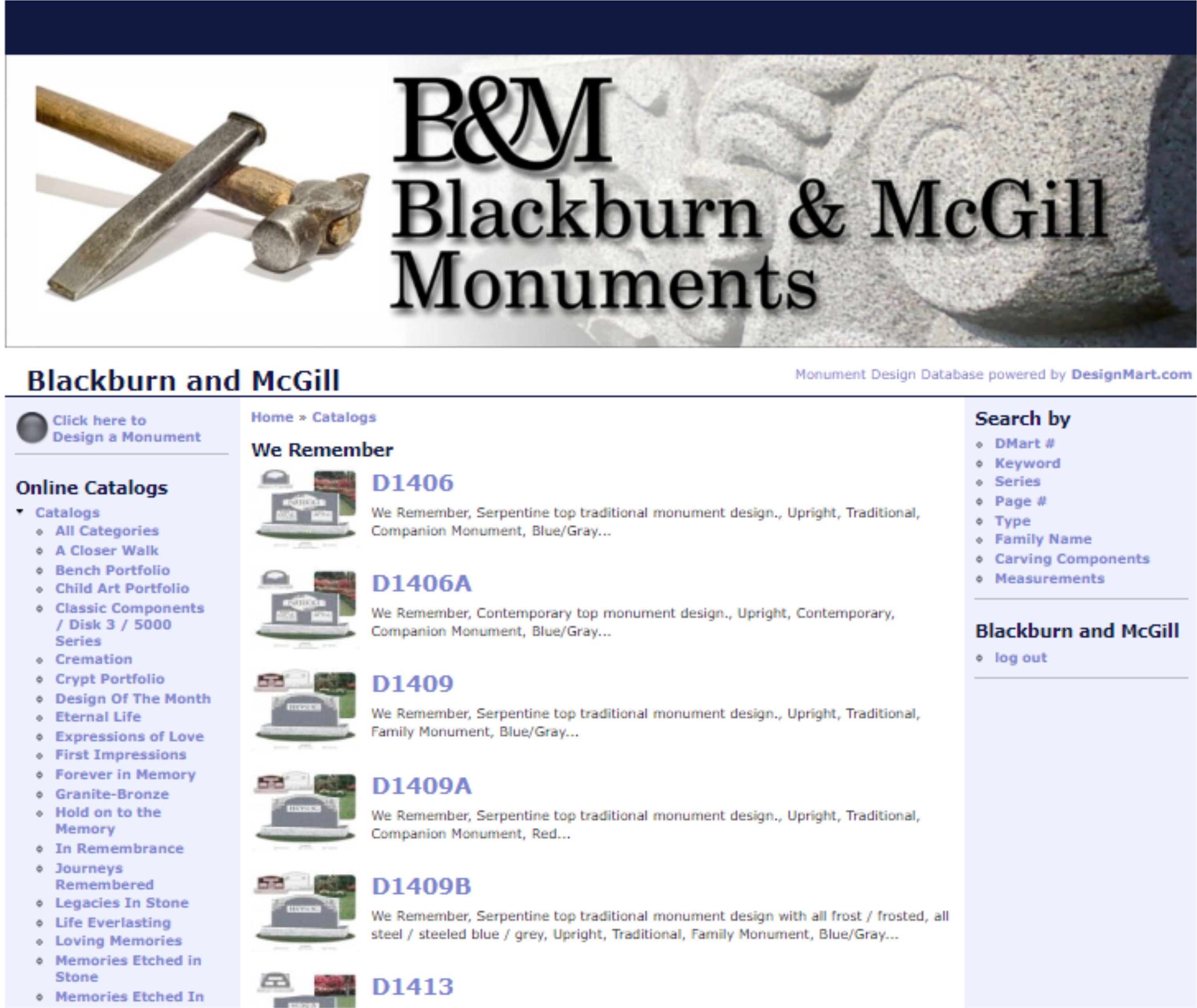 We can have you up and running quickly - usually the same day.  If your website is hosted with us we can easily install a button allowing your customers easy access to all catalogs and the basic Legacy Monument Designer.  If you're hosted elsewhere we'll send the login button code to you and your web developer for easy access directly from your own website.
Questions?
We're here to help. Please email d-mart@designmart.com or call 800-736-7455.  Ask for McKenzi or Mike, and we'll be glad to answer all your questions.