Catholic Design Print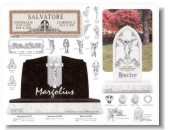 Print: This print offers a variety of alternatives for Catholic memorialization. The glossy 8 1/2 x 11" print features three monuments and 23 components including six angels, the Last Supper, Sacred Heart of Christ, Sacred Heart of Mary, Holy Family, Madonna & Child, Christ with rose border, Mary with rose border, wreath border, passion flower, lily, grape rose, cross, dove, rosary and Crucifix. This design print offers many possibilities for interchanged/customized designs and may be used with coordinating software to customize monuments.
Online Catalog: Design print available online.
Software: Available in AI, CDR, DWG, DXF, EPS and PLT formats for Gerber Graphix Advantage/Omega, Corel Draw, Flexisign, Signlab, Casmate/Inspire, MonuCad, AutoCad, Illustrator and more. Individual designs may be ordered via e-mail. Series may be ordered on CD ROM. Click here to learn more about software. All monument designs and components featured on the print may be purchased at one time for $199 + $12.50 shipping and handling. Individual designs may be purchased for $35 + $10.79 shipping and handling. A second design, purchased at the same time is $25 + $10.79 shipping and handling. Individual designs may be emailed with no shipping and handling charges.