Loving Memories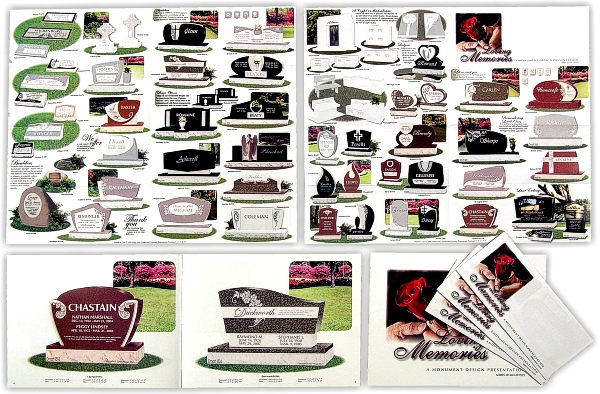 Series: (D1465-D1529) This exciting new series features contemporary designs in various sizes, shapes, textures and colors, and it is ideal for the retail monument counselor who wants to make a good first impression and provide baby boomers with the new designs they're demanding. The series includes 68 monument designs including flat markers, bevel markers, slant markers, upright family monuments, upright double monuments, upright individual monuments, statuary, crypt/mausoleum designs, individual and double heart monuments, natural boulder monuments as well as memorial benches. Colors include blue gray, black, mahogany, brown, pink and red.
Online Catalog: Complete design series available online. You and your customers can log on to our new online catalog and view and print all 68 monument designs. You can use it in your office or your customers can make their selections from the comfort of home and contact you with their choice. It's ideal when your customers are in other cities or states - just let them choose from your online catalog.
Book/Catalog: The 48 page 11" x 8 ½" glossy catalog features larger displays of all the content shown in the brochure, and it includes suggested sizes for all monuments shown. The book also features a selection of carvings in the back of the book that are easily identified by number. This selection of carvings makes it possible for customers to substitute or change carvings by number - saving time and money. All monuments and carvings are available in CAD formats for cutting sandblast stencil or creating custom drawings for customer approval. Books are $34.95 each with discounts available for volume purchases.
Brochure/Pamphlet: The monument industry's newest retail sales brochure measures 18" x 15 1/8" and is folded to fit into a #10 envelope. Custom imprinting is available for those who would like to place a company name or logo on the front cover as shown above. Brochures are available in various quantities with prices as low as $.32 each.
Individual Glossy Prints: Available
Software: All designs featured in the Loving Memories series are available for use with your CAD system. These files save time and money when cutting sandblast stencil or creating drawings for customer approval. Use the file numbers shown in the brochure, book or online catalog to identify your selection, and order via email or on CD in several popular formats. Designs are $8 each when purchased as a series and $35 each when ordered individually.
Loving Memories Design Featured In Elberton Granite Association's Memorial Display