Eternal Life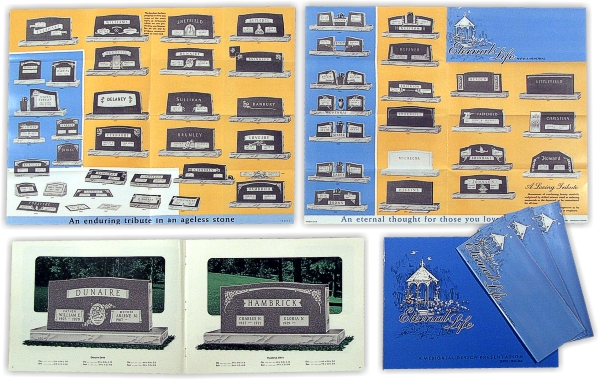 Series: (D821 - D866) Selection includes companion monuments, family monuments, contemporary and traditional shapes, wing/vase style monuments, individuals, markers (slants, bevels, flats).
Online Catalog: Complete design series available online.
Book/Catalog: 11 x 8 1/2"; glossy soft cover; 44 glossy pages, 53 monument designs in blue/gray granite, design identification numbers for easy ordering from granite manufacturers. Features alternate sizes for memorials (usually three size options). Ideal for closing sales and creating specifications and finalizing orders with monument manufacturers.
Brochure/Pamphlet: 18" x 15 1/2"; glossy finish; features 56 photo-realistic monument designs in blue/gray granite. Fits #10 envelope. Ideal for generating awareness through pre-need or at need direct mail or in office use. May be personalized with company name, logo, etc.
Individual Glossy Prints: Contact Design Mart for current availability and prices.
Software: Available in AI, CDR, DWG, DXF, EPS and PLT formats for Gerber Graphix Advantage/Omega, Corel Draw, Flexisign, Signlab, Casmate/Inspire, MonuCad, AutoCad, Illustrator and more. Individual designs may be ordered via e-mail. Series may be ordered on CD ROM. Click here to learn more about software.