Laser Artwork Packages
We offer many categories of artwork for Lasers and Impact Etchers.  Please visit our artwork page to learn more.
Laser Systems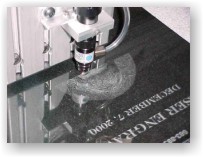 We offer a variety of machines with photos as well as retail monument brochures and catalogs. Systems import a variety of photo formats, and four models are available with a Y range up to 48" and a X range from 48" - 144". Processing speed is 3 square inches per minute and 150 DPI - 300 DPI resolution. The laser itself is a class IV laser and comes with 2 Mb RAM expandable to 8 Mb. Systems start at $39,975*. For information on financing, shipping, and training, please email or call us at (800) 736-7455 today.
*Prices are subject to change from the manufacturer. Please email Mike at d-mart@designmart.com or call him at 800-736-7455 to be sure the information you see here is current. Thank you.