All New Impact Etcher - Starting at $14,750*!
All Impact Etchers are available with Design Mart monument sales brochures, catalogs and computer images. Please visit our Books & Brochures page to learn more about these valuable sales tools and matching image files.
*Prices are subject to change from the manufacturer. Please email Mike at d-mart@designmart.com or call him at 800-736-7455 to be sure the information you see here is current. Thank you.
What is Impact Etching?
Impact Etching is a revolutionary technology, designed for use in the Monument Industry. The image is created by a diamond-tipped needle hitting the stone. The Etcher's controller changes the strength and frequency of hits to achieve required characteristics of the image. The etching head is driven by a precision German-manufactured 3-D linear drive with a gap sensor that automatically maintains an optimal distance between the needle and stone - allowing processing of uneven surfaces. The result is an image that is as close as as possible to the original, and has the quality of etching performed by the artist, for a fraction of the cost.
How does it compare to laser?
Impact Etching does not require stone to be ideally black, level or flat. Since it is similar to hand etching it penetrates stone much deeper than a laser, which burns the surface of the stone.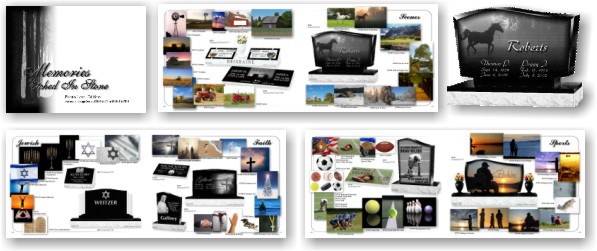 Memories Etched in Stone